Testimonials
 General Feedback about Alyssum Alchemy Products
Please share your own thoughts about the Alyssum Alchemy products you love by leaving a review under the product listing of your favourite products. 
Reviews really help new customers who haven't tried the range to get a feel for the product and to be reassured that they will be investing in a high quality product. 
Reading your reviews is truly one of the highlights of my work!   Read on for some kind words from my customers and clients over the years.  
"I cannot say enough good things about Alyssum Alchemy! I've never come across products quite like these. They are the most luxurious and indulgent aromatherapy products I've ever tried and my skin looks and feels amazing after using them. Using Alyssum Alchemy has become a divine and luxurious ritual in my busy day and each time I use them I am reminded to slow down and take time out for me and my hectic entrepreneurial mum life. I also love that the range is completely toxin-free. Being a holistic nutritionist this is very important to me, and to my clients. I will continue to recommend Alyssum Alchemy products to my clients, family and friends." Tara Thorne, registered nutritionist   
"I often use mist as a way to clear energy before my Sound Healing workshops.  I have tried many but the Alyssum Alchemy mists are the most powerful I have used.  potent and grounded while at the same time light and clearing.  Amazing." Daniel, Suntara Sound Healing     
"Beautiful products and beautifully packaged, such lovely energy is put into them I could feel it as soon as i held the package in my hands! I was so excited to open the package and felt very special like I had bought myself a little gift for a little self love. " Megan  
"I'm so in love with these gorgeous products from Alyssum Alchemy, they are pure luxury to use. The Rose nectar has transformed my skin in this dry Sydney winter and the meditation mist elevates my mood and takes me directly into a sacred space for my meditations - I started thinking I would use it for "special" occasions, but quickly discovered that using it made the occasion special. Sometimes I even just give myself a spritz when I'm feeling low to lift my vibration.  Oh and did I mention it's all beautiful natural non toxic, and infused with all kinds of magic!"  Veronica, Love Light and Gratitude   
"What I love about Alyssum Alchemy is knowing that each individual product is made with such integrity and purity of intention. I love the scent of both the Sacred Stardust Dream and Sacred Space Meditation mists, and look forward to the daily ritual of using them to clear and focus my energy." Gemma   
"Gorgeous Alison! Your stunning package arrived! Oh my gosh, what a beautiful ending to a rough few days! Both sprays are exquisite! So layered and wonderful. I'm blown away. My love for face mists has just escalated. The Rose Face Mist is so calming. And the sandalwood in the Dream mist is heaven."  - Brooke   
"My order came today and I can't believe how beautifully and carefully you wrapped each item.  Such a special investment." - Emily    
"The products arrived safely and I absolutely LOVE them!  I really feel the thought, care and love you put into them." - Dianne  
"Alyssum Alchemy offers the most divinely created remedies for peace and sacred practice of presence, calm and vitality. I highly recommend these products for all forms of stress, anxiety and desire for calm and connection with yourself, they have been amazing for me and my kids."  - Brigid  
"The mists are absolutely perfect, wonderful scents and I love to wear them, thank you very much - also for your kind and fast help, all was perfect!!"   - Pascale  
"Amazing stuff, blown away by the thought and care in the Xmas pack ordered.  Thanks!"  - Mark   
"I was so impressed by my delivery.  The personal touches (hand written address, note inside) really made my day. The products look divine – I can't wait to gift these, as the products are so special and unique. I am gifting these products because I received some of Alison's gorgeous perfume which I enjoy using every single day.  I can highly recommend!"  - Donna  
"So happy to receive this beautiful package of goodies to nourish my mind body and soul! The sprays smell amazing and bring a lovely sense of calm and grounding into my yoga practice.  The eye pillow is divine and I look forward to using it when I sleep.  Would highly recommend her products and would buy from Alison again." - Joyce  
"Oh my gosh! I can't say enough positive things about this shop and her products! She will go out of her way to accommodate, which is hard to come by these days! This seller is such a doll!! Her products are super lovely. Thanks again for the extra goodie!!" - Alex  
"We highly recommend the beautiful sprizters from Alyssum Alchemy. We particularly love the smudge spritzer,Sacred Space Meditation Mist and the simply divine Sacred Stardust Dream Mist spritzer.  Can't wait to try out more of your divine blends"  - Jodie, energy healer   
"Such beautiful elixirs you make! Full of love, deliciousness and spirit"  -Jacqui Bushell, Wild Earth Wisdom  
"I just want to let you know that I absolutely LOVE your products! Keep doing what you're currently doing, as you do it best! :)" - Ethel
"I wear Aligned, Sacred Sunlight Mist and oil for all my special events when I need energetic support." - Natalie, Kinder Life      
"I just want to let you know that I absolutely LOVE your products! Keep doing what you're currently doing, as you do it best! :)" - Ethel  
"I wear Aligned, Sacred Sunlight Mist and oil for all my special events when I need energetic support." - Natalie, KindredToxinFreeFacials   
Feedback about Aligned Anointing Perfume Oil
"Oh my goodness I love this oil so much!  It's travelled to India and back to Collaroy, keeping me strong and steady." Sara
"Aligned is AMAZING.  I wore it through my Reiki 3A journey and integration to keep me grounded and connected to source.  It smells divine and is a little bottle of magic!!!  I don't wear perfume at all but am totally converted ever since Alison created 'Aligned'."  LJ, Love is Your Compass  
"This oil is to die for!  I want to crawl into the bottle and live there it smells so amazing!  A lingering natural scent for the modern day goddess." - Wildfire Wellness
Feedback about Clarity Remedy Oil
"The Clarity Oil is my favourite thing of all time, I LOVE it and find it so helpful for daily use to focus on my tasks or practice yoga with the smell really relaxing me. The eye pillows are divine also.  I am so glad to promote products that I have found so helpful, luxurious and part of my daily rituals."  Sarah, yoga teacher  
"Beautiful to receive my order and start carrying the Clarity oil in my handbag. Wonderful products x. " Lani  
"This oil is the essence of my everyday. It is applied to pulse points and eludes scents of rosemary, lavender, lemon, mint and Australian native oils including Australian Sandalwood, lemon myrtle and Fragonia. This instantly increases my drive, my motivation, it is uplifting, invigorating and inspires greater focus and clarity... I use this anytime I feel overwhelmed or burdened by the throws of life and it instantly changes my mental space and mood." - Brigid
Feedback about Sacred Space Meditation Mist
"The Sacred Space mist is so divine! I not only use it for when I prepare for a mediation but anytime I need some calming and grounding energy throughout my day, especially around my work space. Definitely one of my favourite products for clearing energy for daily rituals."  Jo Kilma, The Darling Tree  
"The Alyssum Alchemy products are magical, delightful and powerful! The Sacred Space Meditation Mist is an essential element of my spiritual practice. They are exquisite, thank you Alison!" Rebecca  
"Thankyou absolutelty beautiful product! I love to use it in my yoga studio and it smells devine. " Megan, yoga teacher  
"I teach yoga and was looking for a space clearing mist to use between groups. The Sacred Space mist was exactly what I needed! It is a beautiful product and is a pleasure to work with."  Kat, Yoga teacher
"Arrived very quickly and was packaged beautifully. Smells amazing. Seller was really communicative and helpful, thank you!" - Cat  
"I use this all the time! It's a beautiful mist I spray regularly."Kylie   "This product is DIVINE!"- Justine  
"Received the mists.  Yay.  Loving them." - Daryl
Feedback about Sacred Stardust Dream Mist
"We go to sleep with your Dream Mist Every night. You have sprinkled your magic on our everyday for which I thank you." - Karla
 "Alyssum Alchemy has created two of the most divine and special products I've ever used. One being the Sacred Stardust Dream Mist. It already sounds dreamy!! This is a body/room mist infused with moonstone and amethyst on the dark moon to create an enchanting atmosphere.  All while being blessed with Reiki. I'm actually in heaven!!!  We have been using this at night on the kids and on myself to aid winding down and sleep. The nights I have used it I don't even remember falling asleep….I adore this mist and definitely think it's a keeper for our family. It's gentle, smells insanely relaxing and instantly evokes a meditative state for me.  Alyssum Alchemy I don't know how you do it but keep doing it. It's true love for me." - Brigid  
"Hi Alison, Got your lovely package today.  Thank you so much, the mist is even more divine than I imagined it would be." - Nicki  
"Lovely smell. Great service. Recommend. Thanks!" -  Alisha
Feedback about Rose Radiance Range
"The Rose Radiance Face Mist has quickly stepped into my top five products ever!  I can't get enough, Rose Otto is one of my fave ingredients and it's calming abilities are unsurpassable.  It really is ritual inducing and I find myself craving the scent!" - Brooke  
The Rose Radiance Facial Nectar is a very light oil that absorbs quickly into the skin to leave it feeling soft and silky. I've been using it both day and night - in the evening it's light enough to layer with another oil, serum and cream without feeling greasy or heavy. In the morning, my routine is much simpler - usually consisting of a singular face oil, and the Rose Radiance Facial Nectar has been hydrating enough used alone during these dry Winter months, but because it's so light, I know I'll still love it when Summer rolls around. The oil also performs beautifully under makeup, giving me a soft, supple base to be working with.  I find I only need 3-5 drops for my entire face, and one bottle will last months.  Rich in antioxidants, fatty acids and vitamins, this facial nectar also helps to protect skin during the day, and keeps it plump and supple."                                                                     Review by Kelsey, Liberty Green Beauty Blog
"My face mist just arrived and oh my! It's just divine. Thank you!!!" Emma-Jane  
"I love the Rose Radiance Mist.  It feels earthy and celestial all at once.  You can feel the love and energy that has gone into it.  Thank you Alison!" - Paola  
"If you're like me and you're a sensitive skin type, you will know only too well that any weather changes cause havoc on an already stressed skin, redness can suddenly become even redder, dry skin becomes rough to the touch and your skin looks unbalanced. Good skincare and light gentle hydration is the key to repairing a sensitive skin. Alyssum Alchemy, Rose Radiance Facial Nectar is a daily conditioning treat for sensitive skin, thanks to it's soothing and nourishing ingredients of raspberry seed, sea buckthorn and pomegranate seed oils. Subtly scented with organic rose otto, geranium, Australian sandalwood, frankincense and neroli oils to balance and heal the skin."                                                     Lindy Bekerman, The Peaceful Skin Co.  
"Beautiful rose mist for after cleansing each morning and night or just to refresh. I think this will be a firm favourite." Lani  
"Thank you for your beautiful products, they are just divine.  The face oil is absolutely yum. " - Anj  
"Just received my Rose Radiance in the mail today. Soooo beautiful and such detail in packaging and the lovely card. I love it so much! Thank you Alison!"  -Mary  
"Love it! I don't have words to describe how wonderful it was to smell your Rose Radiance Facial Nectar!!  I felt in love as soon as I smell it! And saw results four weeks later! Thank you!" - Cristy  
"Absolutely in love with this Oil!! Feels amazing, smells divine! I am a long time fan of rose oil and the quality of this product is very high I am so happy to have found this! So unique, thank you I can't wait to try your other products!" - Courtney  
"I was fortunate to be given the Rose Radiance Facial Nectar as a birthday gift, It came beautifully packaged and left me feeling so pampered.  It's soothing on the skin and has a gorgeous scent. I have quite problematic skin, very dry but prone to spots. Oily products often cause me to breakout but this doesn't at all, it's non-greasy and absorbs easily. I've been using it for about two weeks now and can notice a real difference in my skin, it's much softer and smoother. It's the perfect gift to buy someone special, thanks Alyssum Alchemy!" - Maryce  
"The Rose Radiance Mist is the perfect step after cleansing before following with the rest of my skincare. It envelopes the skin in a delicate rose scent. Using a mist or toner before following with your other skincare makes it easier for the other products to be absorbed more deeply into the skin and aids in hydration. I have also loved using this mist to refresh my skin throughout the day or set my makeup - some toners can leave a slightly tacky feel to the skin if not followed by an oil, but so far all of the rose-based mists I've used have not - and do a beautiful job at hydrating, calming and refreshing the complexion. Extracts of Kakadu Plum and Olive Leaf soothe and protect while oils of Rose and Australian Sandalwood replenish your skin and pure Rosewater calms and hydrates. I prefer a very simple routine, and some nights I was using these two products alone - first the mist followed by several drops of [Rose Radiance] oil, and again the oil in the morning. I would wake up to soft, silky skin and a calm, supple complexion.  The Alyssum Alchemy Rose Radiance Facial Nectar and Rose Radiance Mist both have a gentle rose scent (not too overpowering, but definitely there)."                                 Review from Kelsey, Liberty Green Beauty Blog
"Alyssum Alchemy Rose Radiance Mist - I am partial to anything with rose.  This is a beautiful mist with hydrating, brightening and soothing ingredients like green tea, kakadu plum, sandalwood, rose, olive leaf, green coffee and cranberry extracts.  It smells like fresh roses with a hint of sandalwood.  I love using it throughout my day to refresh my skin."  - Parita, beauty blogger

Feedback about Divine Dew Drops Radiance Oil
"This oil is absolutely beautiful." - Lisa  
"This is the best cleanser I have EVER used." Brigid    
"Next up is Alyssum Alchemy's Divine Oil which I consider to be the Rolls Royce of oil in this [oil cleansers] category. It is an extra special treat in terms of ingredients and formulation. The first ingredient is handcrafted solar infusion of Calendula which is incredibly calming to irritated skin. It also features a base of precious oils of hemp, camellia, jojoba, pumpkin, rosehip and argan and handcrafted herbal solar infusion of vanilla. This blend of oils are rich in lineolic acid (great for oily congestion prone skins) which help to balance the acid mantle of oily, congestion prone problem skins. What's more interesting in this bottle of goodness is the infusion with Australian Rose Quartz (from the Harts Ranges in the Northern Territory) on a Full Moon and blessed with Reiki. Also enhanced with carefully selected gem and flower and essences: red rose, Chicago peace rose, briar rose, crabapple, pink flannel flower, white rhododendron, crystal rose quartz, clear quartz, rhodochrosite, gold.  Honestly, I don't have a complete appreciation of the intangible energies bottled here but what I can appreciate here, is the oil on my skin and how it feels and performs. I prefer using this oil to finish off my routine and add to clay or mud masks. It properly nourishes the skin without the heavy icky feeling on skin." - Review by Blogger Binita of Hidden Harmony World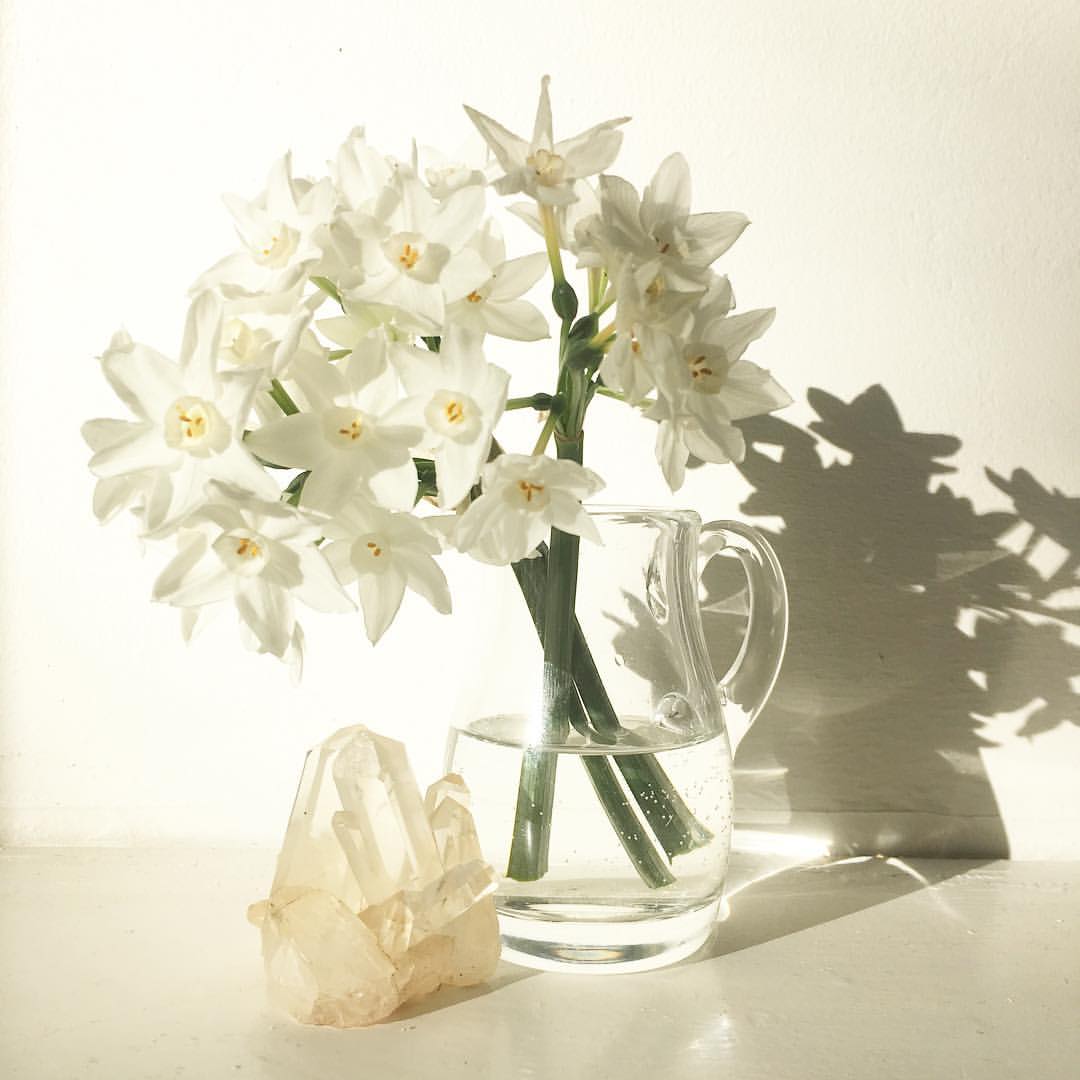 Elevate your Frequency Elevate your Life
Fragrant Artistry and Nourishing Practises to Fill your Cup and Anchor your Intentions.
Supporting you to Blossom into the best version of yourself.
Shop Now